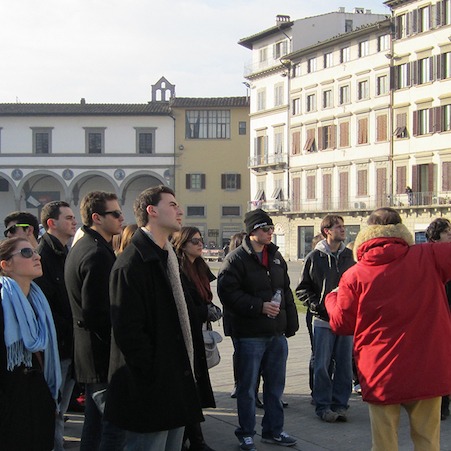 What better place to find inspiration than the birthplace of the Renaissance? At the intersection of European culture and industry, Florence has cultivated the ideas and inventions of visionaries like Galileo, Leonardo, and Machiavelli. It enabled talents such as Brunelleschi, Dante, and Donatello. More recently, designers like Cavalli, Gucci, and Ferragamo call Florence home. This special city has been an international hub for creative thinkers and innovators for centuries.
Aside from the unending, tangible history in Italy, the nation has beyond remarkable landscapes which bring any visit to an entirely new level. You can go skiing in the Alps, visit Roman ruins and Greek temples, or explore the Grand Canal in Venice. As one of the world's most-loved destinations, Italy is also the land of la dolce vita, meaning "the sweet life." For centuries, Florence has attracted visitors with its wide array of museums, archives, and exhibits and is now the second most popular study abroad location for English speakers in the world.
Wells College's urban campus is located in the city-center, nestled among the many shops, cafes, markets, and historical sites that make up the character and spirit of Florence. Approximately 180 miles from Rome and 188 miles from Milan, Florence is a World Heritage Site and provides its visitors with a rich account of art history, design, and architecture.
Students enroll at the Lorenzo de' Medici International Institute, where all courses (aside from the Italian language and literature courses) are taught in English. Students do not need to have prior experience with the Italian language to participate in this program.
Why the Wells in Florence Program?
As the birthplace of the Italian Renaissance, Florence (Firenze) has been home to countless writers, painters, sculptors and architects. It's an eminently walkable city, where world-class masterpieces of art and architecture await around nearly every corner, alongside culinary delights, modern shops and lively nightlife. The Wells in Florence Program — which is open to students from any U.S. college or university — will provide you with a challenging and rewarding educational experience that draws upon Italy's rich cultural heritage.
Founded in 1980, Wells College in Florence is one of the oldest U.S. study-abroad programs in Italy and one of the few located in the historic, medieval heart of this remarkable city. Since its inception, the program has sent thousands of students from more than 200 colleges and universities to its partner institution, the Lorenzo de' Medici Institute (LdM), in the heart of downtown Florence.
The Wells in Florence advantage allows for unparalleled opportunities to experience linguistic and cultural adventures and interact with people from all over the world, while deepening your skills and knowledge in a variety of career fields such as: business, communications, international studies, political science, history and art history, fashion design and many other areas within the social sciences and the arts and humanities.
In Florence, you'll choose from a wide variety of courses taught in English, as well as others focusing on Italian language and literature. And from the time you inquire and apply, all along your exciting journey from the U.S. to Italy, and throughout your entire semester abroad, you will receive extensive, consistent support from dedicated staff based on both sides of the Atlantic.
The Wells in Florence Advantage
Experience:With over 40 years' experience in country, Wells College is one of the oldest running study abroad programs in Florence. Our initial partnership was started in collaboration with Giorgio Renzi, one of the founders of Lorenzo de Medici Institute.
Housing:Not all apartments in Florence are created equal. Wells students are housed in furnished apartments, centrally located in the historic downtown center. Our in-house staff members negotiate agreements in advance and ensure your housing is taken care of for prompt move-in after arrival. We even provide transport from the airport and introduce you to the apartment manager whenever possible. Learn more on the Wells in Florence housing page.
In-house staff: Full-time Wells staff members are available and close by 24/7 in case of emergency. We love working with and getting to know our students every semester! Have a question? Just ask anytime and receive a prompt answer.
Visa help: Obtaining an Italian visa can be time consuming. Attention to detail and deadlines is critical. After your application is accepted through the Wells College portal, we provide clear instructions and assistance to guide you through the process.
Orientation: The course fee includes a one-week, on-site cultural immersion and orientation program that covers cultural adaptation, academic expectations, and health and safety issues. The orientation also provides a good introduction to the Tuscany region.
Excursions and cultural activities: The Wells College program fee includes more excursions, cultural events, and social activities than other comparable programs. Past programming throughout the semester have included:

Orientation week excursions to Castello di Verrazano and Pisa or Siena
An overnight weekend trip to Venice and the islands of Murano and Burano
Two to three weekend trips in and around Florence. Past activities have included: soccer matches, night at the theatre, chocolate sampling or olive mill tour, the grape festival in Impruneta, Carnival in Viareggio, San Gimignano, and Cinque Terre
Welcome and goodbye group dinners

Group flight: Wells staff and Florence students fly from NYC to Florence together
Contact us today and we'll be in touch to help explain the program, how to maximize your travel experience, and answer all your questions around studying in Florence.