Application Process
Step 1:
Sign up for a new Via TRM application management account at the Wells Abroad Portal HERE. If you are given an option to "choose your organization at sign up" please ensure that you select Wells College (even if you are a student from a different institution). Non-Wells students, please use your personal email address to sign up; Wells College students should use their school (wells.edu) email.
Step 2:
AFTER you have signed up for an account, find the Florence, Italy program in the menu of programs in the Wells online portal or navigate to the following link: https://wellsabroad.via-trm.com/traveler/programs/13742. Select the "Apply" option in the top right section of the page and choose your term. Submit all Wells College forms to be considered for admission to the program.
Step 3:
Follow the instructions in your account to register for a "globe ID." Within two to three business days, you will receive a confirmation email with information on how to log into our student portal, called the Wells Globe. This email will explain how you can pay your application fee so that your materials can be reviewed by our staff.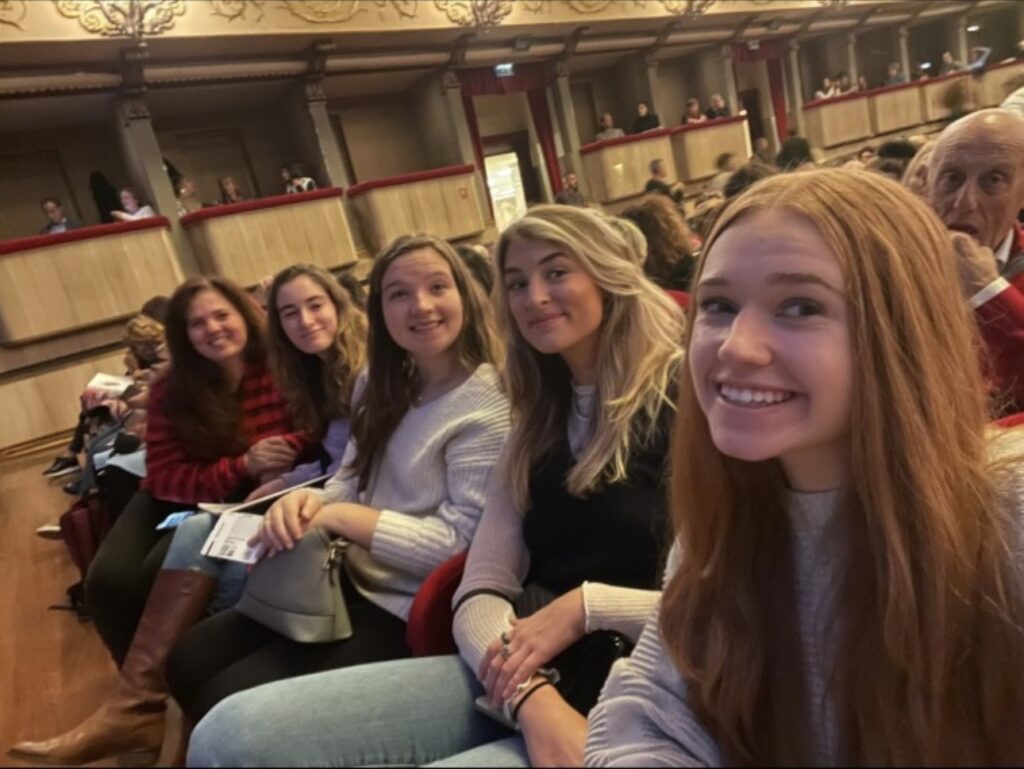 "It is a great opportunity to learn in a new environment. It gives you a sense of independence that is different than what you already have. It is also great to learn another countries customs and traditions. Overall, it was a great experience!"
-Camryn '24
"I just wanted to thank you for creating a truly incredible once in a lifetime experience for the students on the Wells Florence Program this semester. Everything exceeded M's expectations - start to finish - the course offerings, living accommodations, special activities, willingness to assist with any issues that arose while in Florence. You were all instrumental in making the semester amazing. M said it is by far the best-run abroad program and would 100% do it again if he could. So thank you!!"

Best,
R.D.
Supplemental Materials
The supplemental application materials include:
Home Institution Approval form
Official college or university transcript
Academic Recommendation form
Application fee ($50, nonrefundable)
Application Deadlines
Fall Semester and Full-Year Program: June 01
Wells College practices a "rolling admissions" policy, so students are strongly advised to submit a complete application as early as possible, as available places may fill up before the deadlines. Late applications will be considered on a space-available basis.
Spring Semester: October 15
Wells College practices a "rolling admissions" policy, so students are strongly advised to submit a complete application as early as possible, as available places may fill up before the deadlines. Late applications will be considered on a space-available basis.
Program Requirements
GPA
Students must have a minimum cumulative GPA of 2.8; if you do not meet this requirement, please contact us at florence@wells.edu for additional information.
Language
Some knowledge of the Italian language is recommended, but not required. Most courses are taught in English.
See a Sample Course Listing >>
Sophomore, Junior or Senior Class Status
Applicants must have sophomore, junior, or senior standing by the time the program begins to participate in this program.
Good academic and disciplinary standing
Academic and disciplinary history will be considered when determining whether a student is eligible for this program. Students must be in good academic and disciplinary standing at their home institution.
Wells College Students
The Wells in Florence Program is open to Wells College students and to students from other American colleges and universities who are in good academic standing.
Program Fees for Fall and Spring Semesters
Tuition: $11,700
Accommodation: $6,900 (apartment) or $8,150 (homestay)
Airfare: $1,300
Total program fee per semester: $19,900 (apartment) or $21,150 (homestay*)
*Homestay option unavailable fall 2023 and spring 2024 semesters due to ongoing Covid-19 restrictions

Estimated Additional Costs
Not included in the Program Fee
Meals: $2,000 (apartment) or $800 (homestay)
Passport/visa/permit of stay: $225
Books, course supplies, course fees: $400 (average)
Total estimated additional costs: $2,625 (apartment) or $1,425 (homestay)
What's Included in the Program Fee
Tuition for up to 15 semester hours of credit*, issued on an official Wells College transcript
Apartment or homestay accommodations
Round-trip transportation between NYC and Florence
Airport reception and transfer to housing on arrival to Italy
Full-time resident directors who remain on site
Individualized academic and personal advising, both pre-departure and on site
Full support for obtaining your student visa, including advising and documentation
Supplemental health care insurance is provided
An extensive orientation, including day trips outside of Florence
Regional social and cultural excursions — recent outings have included the Impruneta Grape Festival, Carnival of Viareggio, San Gimignano, Cinque Terre, Pisa, the Castello di Verrazzano olive grove and vineyard, professional soccer matches, and theater and musical performances
A trip to Venice and the islands of Murano and Burano with guided tours of major historical and tourist sites; includes lodging and some meals
Welcome and goodbye dinners
*12 credits of student's choice, plus a 3 credit Italian language course are included in the program fee. If a student opts out of the Italian Language course and makes a different class selection, they must pay a course surcharge directly to LdM
Wells College gladly accepts financial aid consortium agreements from the student's home institution
2022-2023 Academic Year Dates
Fall 2023
Departure date: August 28, 2023
Classes begin: September 4, 2023
Fall break: October 23-27, 2023
Semester end date: December 16, 2023
Spring 2024
Departure date: January 29, 2024
Classes start: Feburary 5, 2024
Spring break: March 25–29, 2024
Return to U.S.: May 17-19, 2024
Contact us today and we'll be in touch to help explain the program, how to maximize your travel experience, and answer all your questions around studying in Florence.